Gemma López was born in Barcelona in 1974, with a degree in jewelery and goldsmithing by the Llotja School of Barcelona and Goldmeister since 2014. She was very clear from a very young age that her future career would be linked to this noble profession. It can be said that in her decision had a very large weight that she was educated in a family with a long tradition in the world of handmade jewelry.
In the materialization of his creative universe it was important to have taken two years of his studies at the Massana School and to have completed his training with various courses of chiselling, enamel and waxes, fruit of his artistic growth concerns. At the same time he was learning the trade by doing internships in the family workshop.
Throughout its professional trajectory it has participated in numerous national and international fairs and carried out multiple exhibitions both individual and joint of its work. Her appearances in the media, general and industry have also been frequent, and she has been awarded with the Best Craft Brand of Catalonia Award of 2015. Today her creations are recognized throughout the country and internationally in countries like Mexico, United States, Brazil, Germany, France, Portugal, England, Russia, Australia and East Asia among other places. In the showroom Gemma López workshop in Barcelona all parts are created exclusively and custom-made, orders are accepted and shipped to any part of the world.
His commitment to art and his concern to promote and encourage the growth of his trade has led him to be part of several associations of designers and collaborate with public institutions such as Artesanía de Catalunya, Orfebres FAD and with the College of Jewelers of Catalonia (JORGC) where currently holds the position of President of the Artisans Section.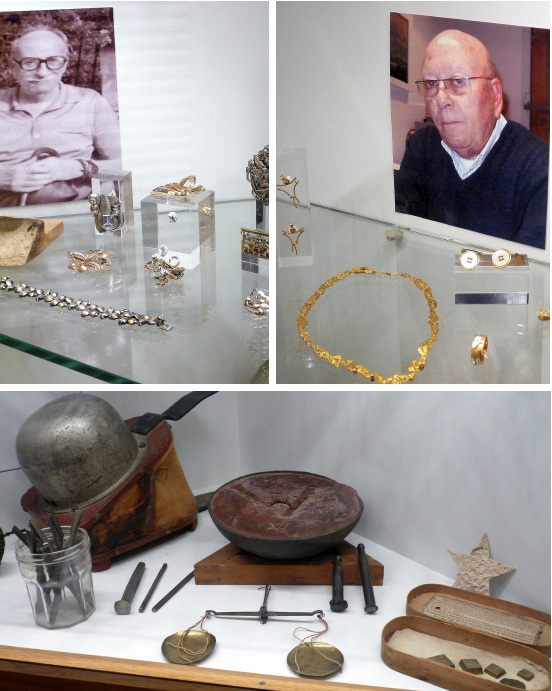 It was in 1945 that Joan López López opened his workshop and established the foundations of the company known today as JOAN LOPEZ JOIERS ARTESANS SCP. For him it was a dream come true. After having spent several hard years of apprenticeship in well-known and respected workshops in the city, he decided the time was right to start a new adventure. He possessed a deep knowledge of his craft and a modern mentality which was a privilege at that time. He created a very personal style for his jewellery which was key to the development of the business.
Following in his father's footsteps, Joan López Ferrer joined the family business in 1960. His more youthful vision of the world of that time combined with his great sensitivity to the current tendencies and the influences of renowned Catalan artists like Dalí and Gaudí, meant that the collections produced by the workshop acquired a tone more readily identifiable with Barcelona culture.
In the 1990s the grandchildren of Joan López López joined the company and helped it to respond to the demands of modern times. They contributed a contemporary, technical and creative vision and a new sales and marketing perspective. With her strong connection to organic materials and her great love of nature, Gemma López Yuste has been able to consolidate her position as a well-known designer in the world of art and jewellery. She has also succeeded in giving her creations a strong Mediterranean personality, maintaining her awareness of future tendencies without renouncing her roots.

Over the years, the creative process of JOAN LOPEZ JOIERS ARTESANS SCP has been transmitted from father to children, using innovative textures which each generation has preserved and updated. The combination of the artisanal method and avant-garde techniques is a hallmark of the manufacturing process and a key element of the company.
Gemma's strong Mediterranean personality, her spiritual connection with nature and her profound sensitivity to the world around her are the common denominators in the evolution of her collections.
In her collections, there is warmth, simplicity of forms as well as an aura of vitality and freshness. The use of various organic materials such as iron, wood or river stones is a frequent feature of her work. She also uses gems of high quality and purity with exclusive cuts.